ABOUT BOOKSTART IN JAPAN

ブックスタートとは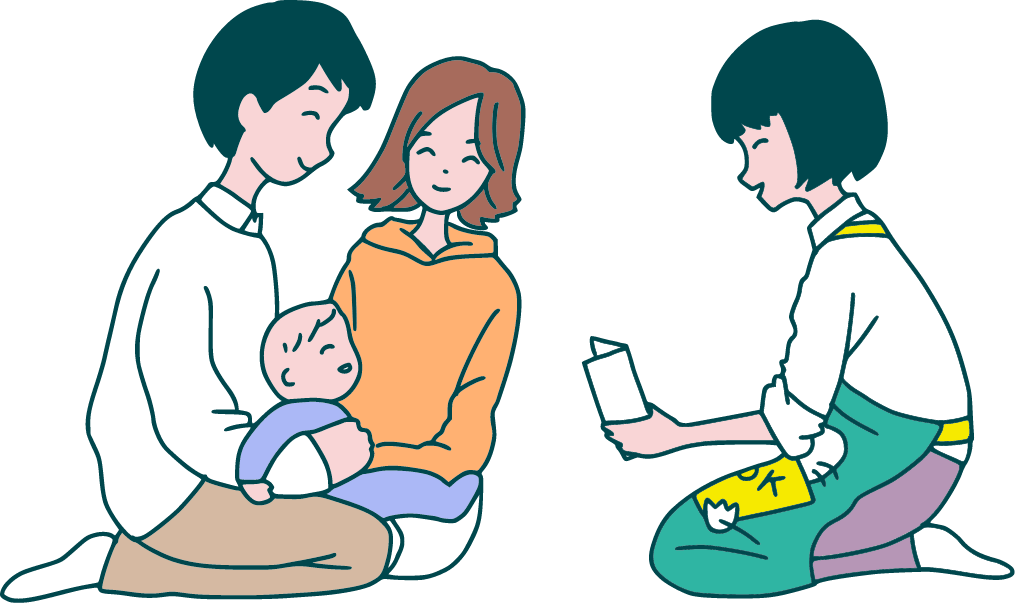 What Is Bookstart?

A way to bring delightful "picture book moments" to all babies.

Bookstart Japan partners with local governments to offer babies and their parents or guardians (1) an enjoyable experience of reading a picture book together, and (2) a gift of picture books, typically offered at a well-baby checkup.

In Japan, each participating local government budgets the cost of Bookstart and implements it independently, using support and information from Bookstart Japan.

Bookstart Japan works with 1,066 out of 1,741 local governments as of March 31, 2021.

How Bookstart Works

Bookstart is for all babies and their parents or guardians in participating municipalities. Babies' age at the time of accessing Bookstart will differ by location, ranging from three months to eighteen months.

On the occasion of a well-baby checkup or other publicly offered service, a facilitator—who may be a librarian, public health nurse, or local volunteer—will read a picture book aloud with each parent-child pair and then present them with a Bookstart pack. This pack contains picture books, a booklist, and other parenting resources and varies by municipality.

How Bookstart Helps

Bookstart serves a wide range of purposes.

It supports parent-child wellness by promoting bonding through the sharing of picture books, as well as by increasing the level of satisfaction with well-baby checkups. It provides child-rearing support by connecting librarians, public health nurses and local volunteers with parents and their babies. It paves the way for literacy by creating opportunities to have fun with books, as well as to receive information about literacy services. Finally, Bookstart contributes to community development by increasing the number of people who are looking out for children and deepening ties to their towns and cities.

Centered on a universal wish for babies' happiness, Bookstart opens doors in many directions.

How Bookstart Began

Bookstart began in the United Kingdom in 1992. By encouraging parents and caregivers to "share books with your baby," Bookstart conveyed that for the youngest humans, picture books are not something to "read" so much as something to "share" and enjoy with a beloved grown-up. The concept caught on, and Bookstart quickly spread throughout the UK.

In Japan, Bookstart began in the year 2000 with a pilot study involving about 200 parent-child pairs. This was covered by various media outlets and became known nationwide. Bookstart then began in Japan in earnest in April 2001 in 12 municipalities. After that, more and more local governments began to implement Bookstart.

The Bookstart concept, born in the UK, has also spread around the world in the form of baby bookgifting programs in many countries. In 2018, Global Network for Early Years Bookgifting was established, as a means for countries and regions with Bookstart programs to exchange information.
Five Key Aspects of Bookstart in Japan
Five aspects of Bookstart hold true wherever it is offered in Japan.

By highlighting these aspects, we hope to deepen understanding of the principles we have inherited from the UK and cultivated in our country.
Provide an impetus for babies and parents or guardians to share picture books together

For adults, picture books create a natural way to speak gently to babies and enjoy spending time with them. For babies, picture books are not something to "read" so much as something to "share" with beloved grown-ups.

For everyone, sharing "picture book moments" creates an invaluable way to connect from the heart. This is why Bookstart exists.

Bookstart is not an early education activity.

All babies and their parents or guardians in participating areas

Bookstart is for all babies, regardless of their birth environment, and for all parents. Some parents and guardians are interested in picture books, and others are not, but all will receive access to Bookstart in the areas where it is offered, sometime between three and eighteen months after baby's birth.

Well-baby group health checkup or other opportunity for all babies

In most localities in Japan, Bookstart is offered at well-baby checkups in the first year of life. These check-ups tend to have high participation. In certain areas, Bookstart may happen as part of a different public health activity, child-rearing support service, or library program.

Offer a fun experience of sharing a picture book, and gift a picture book pack

Rather than merely distributing picture books, Bookstart facilitators help each parent-child pair to experience the delight of opening a picture book together. This experience, combined with the book pack, has proven effective at creating the impetus to share picture books with baby at home.

A local government initiative powered by people from diverse backgrounds

Libraries, public health centers, child-rearing support divisions, and local volunteers all come together to implement Bookstart. This aspect has been central to its success and longevity.

Bookstart is not intended for the promotion, profit, or political gain of individuals or groups.
About Bookstart Japan
Bookstart Japan is a private nonprofit organization that conveys the principles of Bookstart and supports its implementation by local governments from an independent, neutral standpoint. Besides disseminating information on Bookstart collected around the country, by issuing publications and holding workshops, we vend low-cost Bookstart packs to all participating local governments in a "non-commercial" model. In addition, we share information with baby bookgifting organizations in countries and regions around the world, including in the UK, where Bookstart began.

If you have any questions about Bookstart in Japan, kindly contact us.
For Reference:
What Does Bookstart Accomplish in Japan? A Research Report (PDF)